Ceramic Knife gate valve
Product Specification
1.Ceramic Knife gate valve is composed with body and gate,compact design to occupy the little space,effective support strength in the pipe.
2.One side of the appearance of gate is lined industrical ceramic which is resistant scour and wear.
3.Both input of valve and sealing are lined industrial ceramic which is strength the wear resistance to delay the uselife of valve.
4.This valve is widely used in mines,metallurgy,chemical industry,electric power and easily wear condition,etc.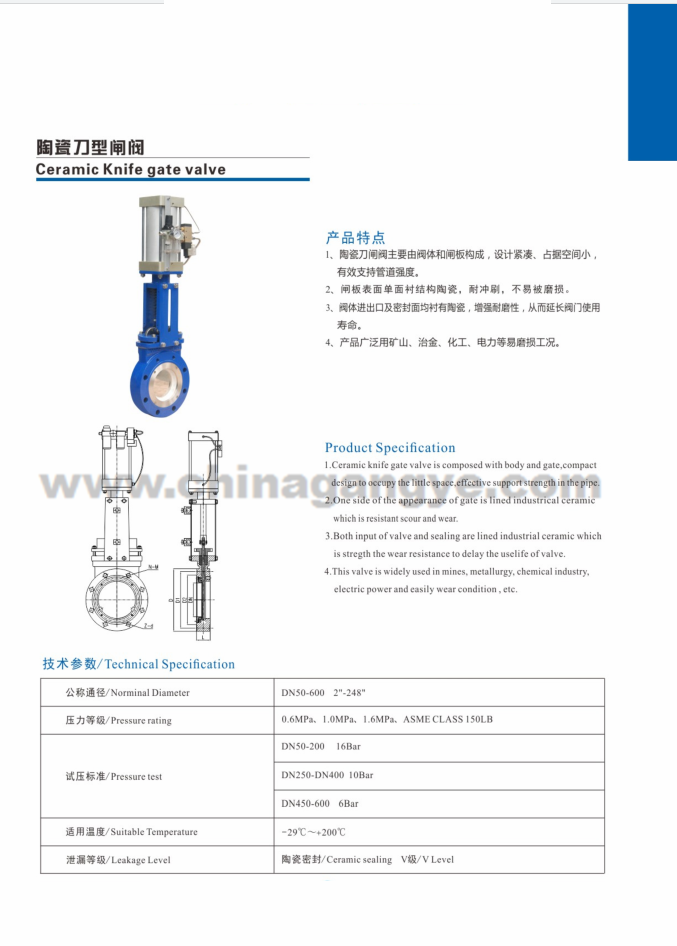 Ceramic Knife gate valve
Specifications
1. Certification: ISO9001, API600, CE, TS
2. Size: 2″-24", DN50 ~ DN600
3.Pressure range: 0.6MPa,1.0MPa,1.6MPa,ASME 150LB
4.The main material: Cast iron, Ductile iron,Carbon steel
5.Temperature: -29 ~ + 200 ℃
6.Operation: electric, gear boxes, pneumatic, hydraulic
7. Brand Name: GANGYE or OEM
8. Guarantee: 12months
9. Suitable medium: Suitable for ash, sludge, coal slurry, slurry, sewage and other solid, liquid-solid, gas-solid two-phase medium transport system, especially for coal thermal power plant pebble system.
Product Specifications
Design specification: GB / T8691 MSS SP-81
Face to face: GB / T12221 MSS SP-81
Links Standard: JB / T79 ASME B16.5
Pressure Test: JB / T8691 MSS SP-81
Product Signs: GB / T12220 MSS SP-25
Delivery Specification: JB / T7928 MSS SP-81
Kinds of Knife Gate Valve Opreation
Can offer all the type of actuators and manufactures,manual,electrical,peneumatic and pneumatic-hydraulic.
Penumatic Actuator
The pneumatic actuator of knife gate valve is usually straighe travel and double action,while installing set of handle,it clould open/close the valve by handle once the pneumaticis broken;it is extremely suitable for being applied fast open/close and frequent open/close.
It could realize the remote automatic control depends the working situation with the accessories included solenoid valve,air strainer and limited switch.
Electric Actuator
The electric actuator of knife gate valve is support the rotary actuator,conventional1380v voltage(220 v to be customized)The electric actuator is competewith handle,the handlecould open/close the valve once no power,It could effective control the medium to prevent the accident happening.
Chain wheel
The Chainwheel actuator of knife gate valve is installed on the pipc in the air,It must keep the chain and sprocket parallel while operating,do not pull 90 degrees.
Bevel Gear
The bevel gear of knife gate valve is very easy to open/close.
Electric& Hydraulic Actuator
The electric&Hydraulic actuator of knife gate valve open/close through the reciprocating push.it come true far distance,high air and dangeranceor process control.The normal voltage is 380V,also could custom-made 220Vor 660V.
[wpdm_package id='588′]