Double Block And Bleed Ball Valve
The "Double Block and Bleed Isolation Philosophy" requires two in-line isolation valves and a bleed valve, used to drain or vent trapped fluid between the two closure elements in order to safely isolate safely the downstream pipe. This feature can be achieved with one single valves c/w a bleed port between the obturators.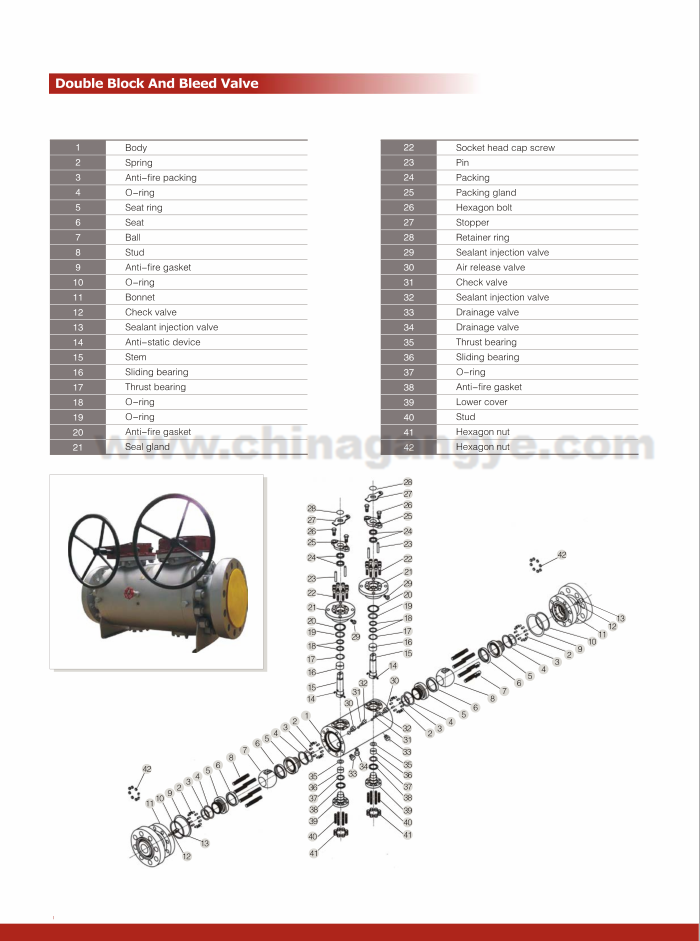 Body Material:
A216-WCB (Carbon Steel), A217-WC6 (1-1/4Cr-1/2Mo), A217-WC9 (2-1⁄4Cr–1Mo), A217-C5 (5Cr–1⁄2Mo), A217-C12 (9Cr–1Mo), A352-LCB (Carbon Steel), A352-LCC (Carbon Steel), A351-CF8M (18Cr–9Ni–2Mo), A351-CF3M (18Cr–9Ni–2Mo)
Actuators:
Gear, Electric, Cylinder, Pneumatic, Hydraulic, Hand wheel, Chain wheels
All valves are designed to comply with the requirements of ASME B16.34, and the ASME as well as customers' requirements as applicable.
Quality Assurance (QA):
Every step from procurement through production, welding, assembly, testing, and packaging is in accordance with quality programs and procedures (ASME Section III manual and ISO 9001 manual).
Quality Control (QC):
The QC is responsible for all aspects of quality, from receiving of material to control of machining, welding, nondestructive examination, assembly, pressure testing, cleaning, painting, and packaging.
Pressure Testing:
Gangye valve is pressure tested in accordance with ASME B16.34, API 598, or special customers' requirements as applicable.
MAIN APPLICATIONS
•Offshore oil & gas production
•Gas & oil terminals
•Chemical & Petrochemical
•Refining
•Fiscal Metering Skid Manufacturing
•LNG gas carrier
•Process/ Power industry
contractors
ADVANTAGES
•Space and weight saving
•Cost saving (product & installation)
•Minimized leak paths
•Increased line structural integrity
•ESDV+MOV or ESDV+XV
configurations
•Increasesd reliability of the system
CHARACTERISTICS
•Anti blow out/low emission stems
•Fire safe & anti-static design
•Independent ball and stem
•Self aligning trims
•Self relieving/ Double piston effect floating seats
•Soft or metal seated
[wpdm_package id='613′]