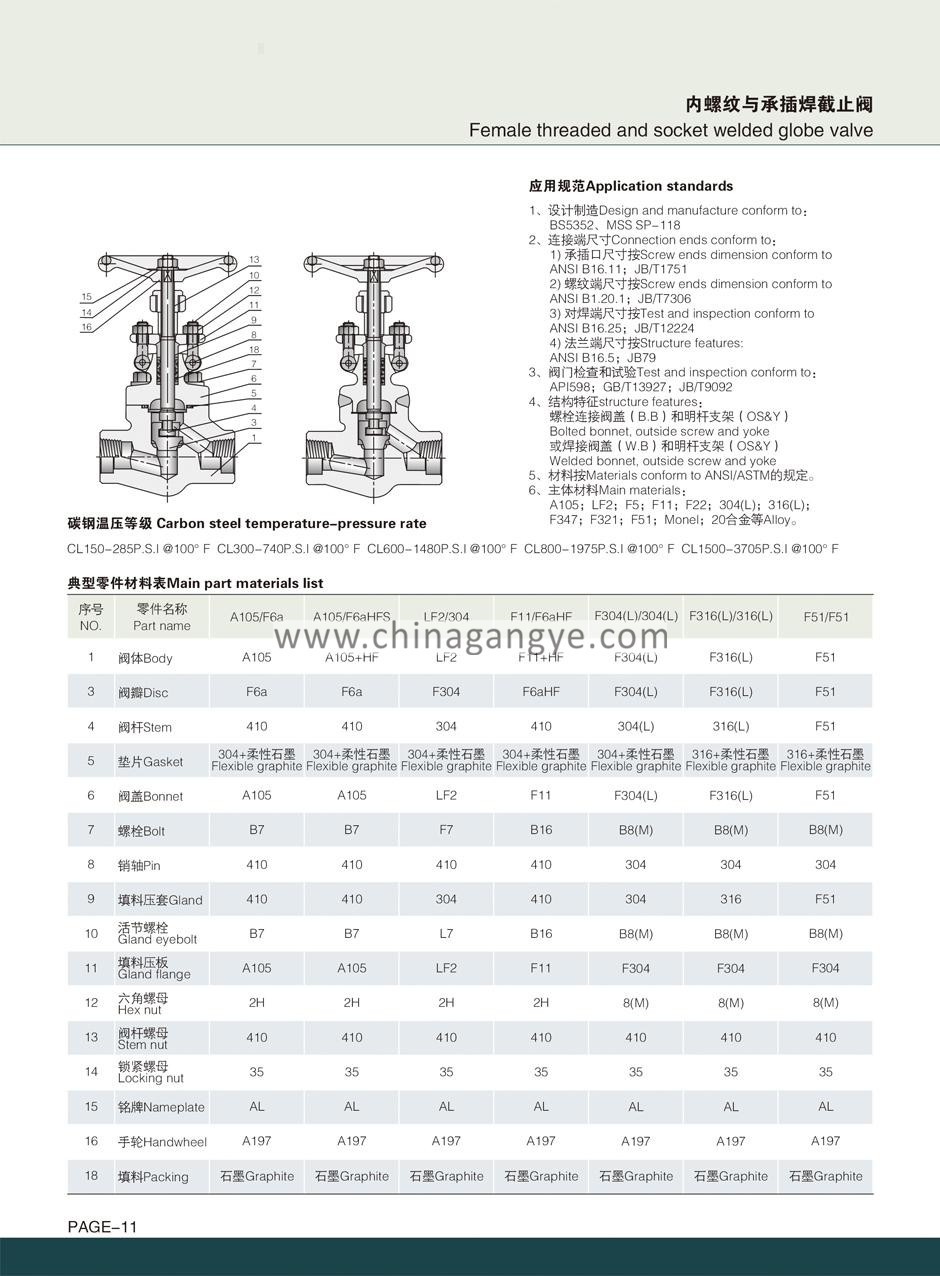 The sealing faces of valve seat and valve clack are build-up welded with hard alloy to improve the erosion resistance and extend the service life of valve.
The friction between sealing faces is smaller during opening and closing, facilitating a longer service life.
The valve clack is of taper, needle, ball and parabola types, and can be used to adjust the flow rate.
SS+ graphite or metallic seal is adopted between valve body and bonnet for reliable sealing.
Rising stem structure, making the valve switch position be clear at a glance
The valve stem thread will not come into contact with the medium, so the corrosion of medium to the thread is reduced.
A certain clearance is provided between valve clack and valve stem. You may adjust it by yourself. The sealing is reliable.
Short stroke is suitable for application at positions subject to frequent opening.
Body Material:
A216-WCB (Carbon Steel), A217-WC6 (1-1/4Cr-1/2Mo), A217-WC9 (2-1⁄4Cr–1Mo), A217-C5 (5Cr–1⁄2Mo), A217-C12 (9Cr–1Mo), A352-LCB (Carbon Steel), A352-LCC (Carbon Steel), A351-CF8M (18Cr–9Ni–2Mo), A351-CF3M (18Cr–9Ni–2Mo)
Actuators:
Gear, Electric, Cylinder, Pneumatic, Hydraulic, Hand wheel, Chain wheels
All valves are designed to comply with the requirements of ASME B16.34, and the ASME as well as customers' requirements as applicable.
Quality Assurance (QA):
Every step from procurement through production, welding, assembly, testing, and packaging is in accordance with quality programs and procedures (ASME Section III manual and ISO 9001 manual).
Quality Control (QC):
The QC is responsible for all aspects of quality, from receiving of material to control of machining, welding, nondestructive examination, assembly, pressure testing, cleaning, painting, and packaging.
Pressure Testing:
Gangye valve is pressure tested in accordance with ASME B16.34, API 598, or special customers' requirements as applicable.
Forged Steel Globe Valve (Bolted Bonnet)
Specifications
1. Certification: ISO9001, API600, CE, TS
2. Size: 2″-4″
3. Pressure: Class 150LB-1500LB
4. Material: Carbon Steel/Stainless Steel
5. Brand Name: Gangye Valve or OEM
6. Guarantee: 18months
7. Suitable medium: water, oil, gas….
STANDARDS:
Design and Manufacture: API600 ,ASME B 16.34, API6D, BS5351
Inspection and Test: API598
End flange dimension: ASME B16.5 (for NPS≤24); AMSE B16.47 series B
Socket-weld dimension: ASME B16.11
Face to face and end to end: ASME B 16.10
Pressure/temperature rating: ASME B16.34
Materials: LCB, LCC, CF8, CF8M, CF3, CF3M, A105, LF2, F11, F22, F5, F304, F316, F304L, F316L
Operation: Handwheel, Bevel Gear, Pneumatic, Electric
t[wpdm_package id='703′]