wafer type butterfly valve
Features:
1. The disc and shaft are connected without pin to reduce the leakage between them and achieve on-site replacement. It also can achieve optimal fit and open torque transmission by using O-ring sealing on the shaft.
2. With polishing and precision machining on the sealing surface of disc, it can achieve a completely concentric sealing, lower the opening and closing torque, extend the service life and reach bubble-tight grade sealing. Streamlined design can minimize pressure loss.
3. The seat is equipped with backrest, and the torque is stable. Customers can choose the rubber and PTFE in different kinds of materials. The outer edge of the rubber can lengthen the face to face of the body to replace the flange gasket. The integrally molded O-ring is set in the shaft hole for sealing.
4. The seat has no skeleton. The unique swallowtail design allows the seat to fit the body completely, effectively squeeze the seat deformation force and act on the body instead of shaft to avoid torque rising. The waterline design on the end face of the seat can play a better sealing performance during working process.
5. Double semi-shaft design can ensure larger flow rate per minute, and work for a long time without breakdown.
6. Good economic benefit due to its simple structure, easy operation and strong repeated usability of the removal parts.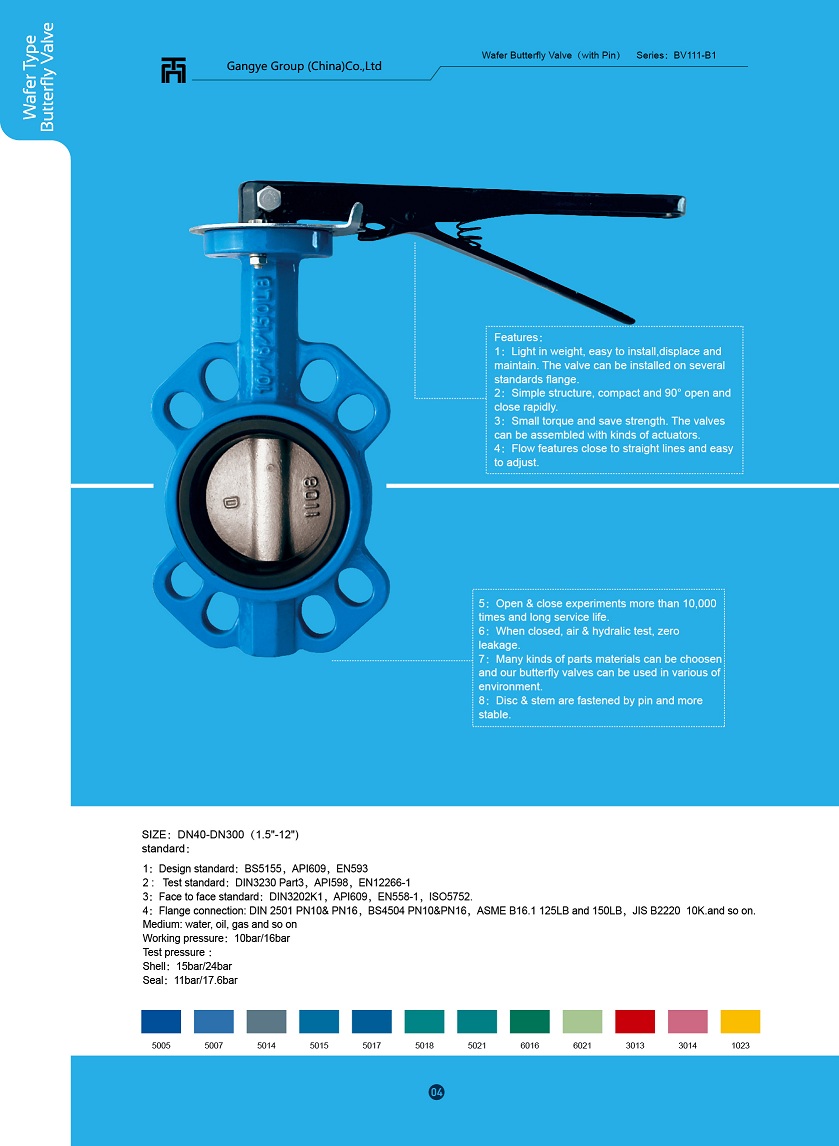 wafer type butterfly valve
Specifications
1. Certification: ISO9001, API600, CE, TS
2. Size: 1/2″-48″
3. Pressure: Class 150LB
4. Material: Carbon Steel/Stainless Steel
5. Brand Name: GANGYE or OEM
6. Guarantee: 12months
Applicable Standards
Design & Manufacture: API 609, EN 593, AWWA C504
Face to Face Dimension: API 609, EN 558
End Connection: ASME B16.5, EN 1092
Test and Inspection: API 598, EN 12266
Sizes: 2″ – 48″ or DN50 – DN1200
Pressure Rating: Class150 or PN10 – PN16
Materials of Valve Body: GG25, A126 B, GGG40, A536, WCB, LCB, CF8, CF3, CF8M, CF3M, etc.
Operated by: Lever, Gear, Pneumatic, hydraulic and Electric actuator
Features:
1. Light in weight,easy to install,displae and maintain.The valve can be installed on several standards flange.
2. Simple structure,compact and 90° open and close rapidly.
3. Smaill torque and save strength.The valves can be assembled with kinds of actuators.
4. Flow features close to straight lines and easy to adjust.
5. Open&close experiments more than 10000 times and long service life.
6. Whe closed,air& hydraulic test,zero leakage.
7. Many kinds of parts materials can be choosen and our butterfly valves can be used in various of environment.
8. Disc&stem are fastened by pin and more stable.
[wpdm_package id='662′]